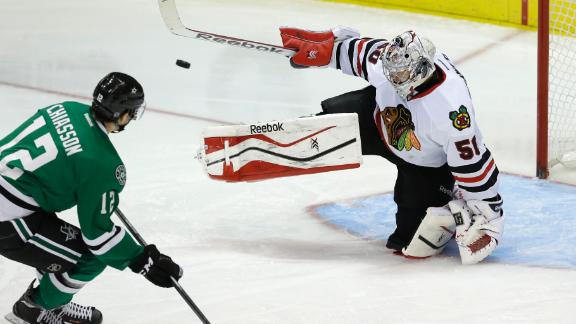 It's probably as good a summary of this game as any to point out that, at its conclusion, 22 Professional Hockey players skated in unopposed to take shots on goal and 19 of them failed to score. It was that sort of a night.
It's often said that the marl of a true Champion is the ability to eke out a win when not playing well and the Blackhawks certainly seemed to be testing that theory.  They were outshot 29-26, and seemed to have difficulty passing to a teammate. Shots were deflecting off shinpads, pucks were bobbling and it just seemed like one of those nights. Corey Crawford caught the mood, going walkabout behind the goalline which allowed Horcoff to get the puck back in front for Rich Peverley to shoot it home.
The second period was a low-shot trudge, the only incident of note being the horrible injury sustained by Stephane Robidas, whose ankle seemed to give way as he competed for the puck, exarcebated by him sliding into the boards. He was stretchered off in agony and taken to the hospital, where the word is that he has, indeed, broken his ankle. Nasty.
Third period saw the Hawks upping the tempo a little and when they did the Stars becan to chase shadows. The game was tied when Patrick Sharp glanced in yet another Duncan Keith long-ranger, giving Duncs 21 assists for the year, good for 4th in the league, just behind some guy called Crosby. No winner was to be found in the rest of the period or OT, although Patrick Kane tried hard to keep his point streak alive, and we proceeded to the shootout. Regulation scoreres Sharp and Peverley converted on their attempts and then 16 shots were saved, missed or otherwise biffed until Ben Smith stepped up and rifled one past Lehtonen.
Ugly two points, but two points nonetheless and on a night where St Louis lost, allowing a tiny bit of daylight to open at the top of Conference III. A better efort is going to be needed against the Yotes in Phoenix tonight as the Hawks finish off this road trip. talking points:
Expensive screw-up aside, Crawford had a pretty good night, turning away 28 shots at 0.966%. He also remains perfect in his career vs Penalty Shots, although he didn't have too much to do with this one: Alex Chiasson hit the post with his attempt after Brent Seabrook hooked him. He was looking thoroughly bored by the time the SO finished
The Stars did their best impersonation of the Blues last night: there were many cross-checks, cheap shots and general asshattery. Roussel, Garbutt and Dillon were the main culprits, Roussel getting away with butt-smashing Patrick Kane to the ground which sparked a confrontation between Sharp and Daley. Brent Seabrook looked like he was going to remove the head of the next person to get in Crawfords face. Aded to the generally scappy ugliness last night.
Marian Hossa and Brandon Saad both did their level best to get something going but the final pass or shot just semed to be missing all night.
Hopefully Robidas heals quickly: horrible to see a player suffering like that.
Pat Foley, Cold Warrior, referred to Valeri Nichushkin as a "Skilled Soviet". Clearly Pat hasn't been sober since the Wall came down or he might have noticed that Nichuskin wasn't even born when the Soviet Union stopped existing.
One to forget, two more points in the bag, the Circus Trip now 5-1-0 with one to play.
Preview up later. Have a good day!