Chicago Blackhawks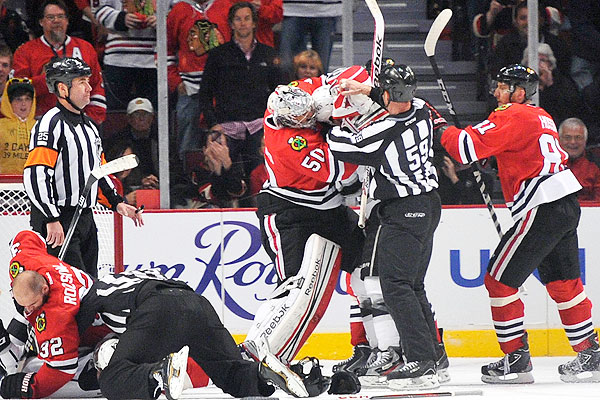 Corey Crawford was expected to be the subject of much speculation during the forthcoming Season: his current contract (Cap Hit of $2.6 Million) was due to expire next summer, leaving him a Unrestricted Free Agent. The Hawks fanbase was wondering if he would be traded now that his value is at its peak, re-upped, and if so, for how long and for how much in light of some of the blockbuster and/or boneheaded deals given to goalies lately.
Instead Stan Bowman gave an added fillip to Crawford's Day withe Cup by re-signing him to a 6-year deal worth $36 Million ($6M per year)
Bowman has thus far shown no willingness to overpay for Goaltending and Crawfords deal is closer to the 6yr/$31.8m extension signed between Jimmy Howard and the Wings or Mike Smith's 6yr/$34.2 than the Tuuka Rask contract (8yr/$56m) .Obviously this is being made with the anticipation of a considerable rise in the Salary Cap in 2014/15. Crawford is now making some Elite-Money.
I'm sure there are some Crow-Hating Meatballs out there tearing out their hair and howling into their Tapout shirts as their dream of Ryan Miller in the Indianhead fades. Thus far, however, the general mood seems to be one of cautious optimism. There are some concerns over the length of the contract and that Crawford will be 35 at its end however, it would be very un-Bowman-like for the contract to be an untradeable monster and there is always going to be some GM willing to pay whatever it takes to get a Stanley Cup winning Goalie on to their roster.
Personally I like it, yes, it's a lot of money and years but when you look at some of the other contracts that have been handed out in recent years, especially to Goalies, it looks perfectly reasonable. I also have an inclination to trust Stan Bowman's judgement in these things: he's hardly put a foot wrong in his dealings.
This is going to be a high-pressure year for Crawford: he is now the undisputed #1 (which he was last season, too despite the "WE WANT DAT EMORY GUY" crowd), he won't be "Playing for a Deal", instead he will have to justify his considerable price-tag while the well-regarded Antti Raanta hones his game in the AHL.
We all saw plenty of signs of an increasingly confident, aggressive and strong-willed Crawford last season (and not even Pat Kane believes that he didn't deserve the Conn Smythe). With Chicago looking to repeat and with every team in the league gunning for them, he's going to need every bit of that strength.