Chicago Blackhawks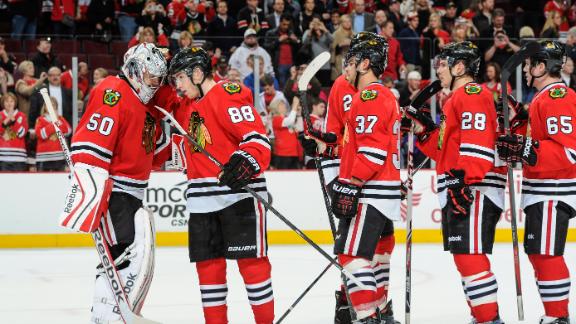 There's an English soccer chant that goes something along the lines of "CAN WE PLAY YOU EVERY WEEK?". That's how I feel about the Winnipeg Jets. They're bad. Bad with a capital "Beej". Four more games as hopelessly mismatched as this would be just dandy, thanks (he said, dooming the Hawks to lose the rest of the series)  I've got some grousing to do, so I'll get through what was a fun, if forgettable, game as quickly as I can.
Brookbank at forward. It's dumb. Q has his reasons (Brookbank deserves to stay in the side but Roszie needs the rotation) but they make sense only to Q.. if you're playing a guy for 8.14 minutes (and more than half of that in the 3rd when the game was safe) and in an unfamilar position, it's really doing nobody any good (for the record, Brookbank played 0.47 in the 1st and 2.45 in the 2nd). This may be a one-off, if so fine. If not…
Patrick Sharp looked to be having "One of those evenings", drawing iron twice, before another handsome goal from close range. His linemates, Toews & Hossa, were operating at a level so far above Winnipeg that they were on the other side of the Pole.
Patrick Kane is very, very good at stickhandling. you heard it here 1,254,821st
"Big Buff" as Foley dribblingly called him all night, did a very good impression of an extremely large headless chicken.
Seriously, can we play the Jets every week? Please?
OK, to the angry bit. Yes, it's the Pardy-Through-the Looking-Glass incident. You've all seen it and read about it, I won't dwell overmuch on the utterly disgraceful lack of respect shown by the couple who grabbed the helmet and dumped the beer. What appalled me was the blatant disregard for Pardy's safety: here we have a player who has just gone head-first into and through the glass at high speed, so clearly the thing to do is to yank his helmet off his head as hard as you can, because there's no way that he might have already suffered a serious neck or head injury. For that alone I hope that the guy gets a lifetime ban from the UC. In the UK or Australia he would have been arrested for such conduct.
The other angry bit, from the same incident, also touches on Player Safety: even while Pardy was draped over the boards with fans and players trying to hold the giant sheet of glass away from his head, his teammates, particularly Anthony Peluso, decided that now was the time to jump Brandon Bollig.  Aside from being yet another example of the asinine trend of players trying to fight after hard but legal hits, this was ridiculous. I hope Claude Noel or someone else in the Jets org has taken the time to sit him down and talk to him about 'Timing'.
OK, so much for that. It's off to Dallas on Saturday. Peace.