mightymikeD
The Irish contingent, live from Co. Cork. 90% of what I write will be done through a haze of sleep deprivation & alcohol. @brightblack76 on the Twitaarghs
Posts by mightymikeD
Here we are then.
This crazed head-rush of a season has finally brought us to the very threshold of the Promised Land. The Chicago Blackhawks are 60 minutes away from fulfilling all the promise and wiping away the pains of the last three years.
My Dear Friends, we are about to enter the part of the Season known as "Nut-Cutting-Time". I hope you're ready.
Tonight the Hawks host the Bruins at the UC, Home Ice advantage restored for a best-of-three. But tonight is also the last night where there is any "We'll get 'em next time, gang"  for the team that loses. It's going to be Elimination/Total Victory game(s) after this. There will be a Game 6, for sure, and I stick by my original prediction that this series goes the distance. But we'll cross that Bridge of Pain as and when we come to it.
It's trite to say a non-elimination game is a "Must-Win" in the Playoffs, because every game is a "Must-Win". The Hawks have stared down three straight against the Wings already this post-season. But I'm going to call this one of those games. I'm an eternal optimist and believe that this Hawks team can beat anyone, anywhere, anytime. However, if we head back to Boston on the wrong end of a 3-2 series.. well, I fear the worst.  I want Boston desperate, afraid and knowing that their season hangs in the balance at TD Gardens. This series has been so ridiculously tight, with such tiny margins between victory and defeat, that every odd bounce of the puck or speculative shot from a 4th Liner assumes massive importance. And I would much rather have the Bruins worrying about that in Game 6, knowing that the very best they can hope for is having to win in an insanely pumped up UC in Game 7.. against a Hawks team that has the chance to be the first to win a Cup on Chicago ice since 1938.
Rather them than me.
Tonight, the Hawks need to remember that Speed Kills, that Chara has a turning circle similar to the USS Eisenhower and that depth scoring is going to make the difference. Crow must blank all the Narrative BS (and he will). Q needs to roll those lines that devastated an entire league this year.
If that happens, then it'll be the Bruins fans nervously stocking up on Depends, Monday Night.
So, all of this is a rather roundabout way of saying "Let's Go, Hawks"
Get it done, gentlemen.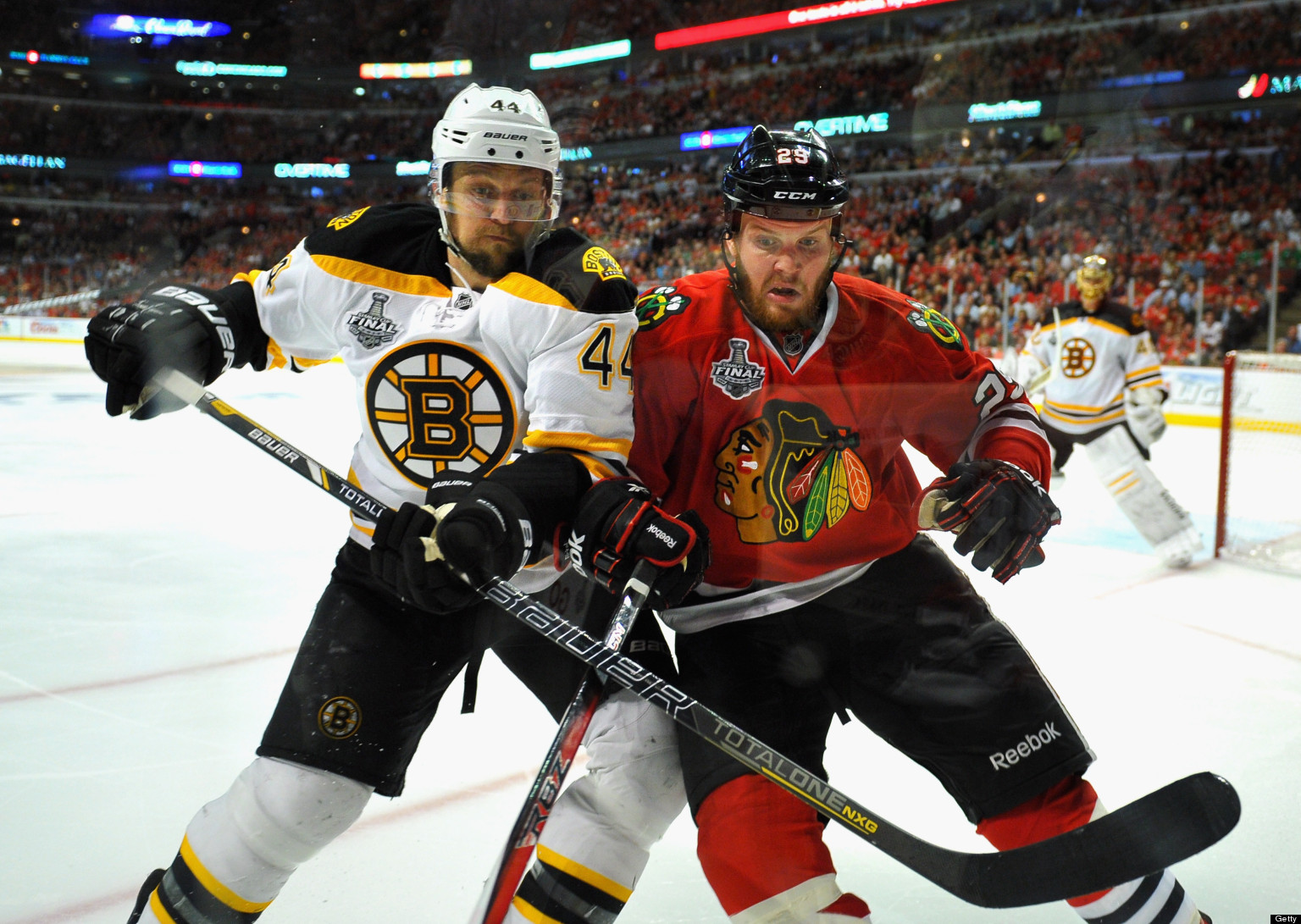 This is going to be short and less-than-sweet. Because it's Father's Day or something.
Exhilarating Hockey, played at a breakneck pace and showing total domination from a fearless Hawks team. Possibly the best they've played this year. True Championship-Quality, right there. Then the 2nd Period started.
Yesterday I posted a vitriolic (and damn funny) roast on the Hawks and the WC from Days of Y'Orr. Today, we'll balance that with a contribution from one of our friends, Emilie, who is the Managing Editor at Hockey Wilderness; the SBN blog for future Conference III rivals the Minnesota Wild.  She makes some pretty persuasive arguments for why opposition fans should be backing the Hawks.  Take it away, Em
It's been a funny old season, not least because the Eastern and Western Conferences have (until now) been kept apart, in much the same way that a St Louis Marriage Counselor (Police Officer to you & I) steps in between Durleen and Wayde when they get to tussling over the last of the meth.
We know all about the West, of course, having spent the year kicking them all in (often repeatedly). However, in a spirit of enquiry, I reached out to excellent Bruins blog Days of Y'Orr to see what, exactly, they think of the Western Conference over there in the East and how they think this series will shake out.
What follows is all theirs..  be warned.
This one nearly killed me.
As this game progressed, and the elation of the early lead was slowly replaced with gnawing tension, I got drunker and drunker and shut down all distractions like Twitter. Focus. Concentrate. Will it there.
Then joy as Kane potted what surely must be the winner.. turning to despair when Bickell iced it, Toews lost the draw and the puck clipped off Mike Richards in a crowded crease to tie it up.  1OT passed in a blur of terror, a state that was repeated until.. well, you all saw it.
Patrick Kane, folks. Patrick "Fuck This Sound, I'ma win this mofo" Kane. Nice.
Today marks the First Anniversary of the passing of Dan Appelt, better known online as Badgerdano. For those not familiar with either name, Badgerdano was a regular at the old Second City Hockey site, in fact, had been there almost from the start, and was a witty and popular commentator and the origin of a meme that persists to this day. You know when you've been Badgerdano'd
SCH was the place that myself, Nakis and JesusMarianHossa first crossed paths (and occasionally butted heads). Badger was an integral part of the community there, a welcoming voice to newcomers, an incisive analyst of whatever the Hawks were up to at the time and always ready to get in on (or, frequently, instigate)  the inevitable mickey-taking that was part of the fun.  I should probably add that he was known to be, on occasion, "Quite Supportive" of all things UW. Just a little bit.
Tonight was all set up to be a write-off for the Hawks: even perennial "Glass-Half-Full" types like myself were prepared to accept a Keith-Less Chicago getting beat by the Kings and their formidable Home record. We were saying things like "Holding Serve at Home will win this series".. which is making Tennis analogies in Hockey and clearly all wrong. But I think it's safe to say that we were planning on resuming hostilities at the UC with the series tied.
Not the case, as it happened.
The Hawks played out of their skins from Puck Drop. There were few battles uncontested and the men in white were everywhere, hassling and harrying. There was also the confidence to keep the passing short and smart. Mainly, the game got played at a pace that the LAK Defense simply cannot live with.  Kane's goal is a prime example of this. Yeah, sure he just tapped a Bickell redirect of a long shot from Hjammer over the line..  but he had also (along with Toews) been part of a sequence of play leading up to it that had left the Kings reeling. That sort of White-Hot Offense from Chicago will beat anyone. The goal felt inevitable.
Make no mistake, this was an excellent performance from the Hawks, missing one of their biggest pieces. We are headed back to Chicago with a chance to do as the Hawks did unto the Wild.. which is to say Win in 5.
The sun is up here in London, it's pissing it down with rain and I'm foregoing sleep entirely tonight, as I have to go to work in two hours. Therefore, let's get the bullets going.. but before we do, the 3 Stars tonight (according to NHL.com) were, apparently, Hossa, Kane and Penner. Which is all kinds of horseshit.
To be perfectly honest, I've not seen much of the Kings this year, other than their visits to the UC: There's an 8-hour time difference between here and California, so I tend to reserve my 3am game starts for Vancouver. Fortunately I know someone who has had ample opportunity to get a very good look at the reigning Champs, both as a Divisional Rival and during their 7-Game WCSF. So, without further ado, I'd like to present ElvisVF101 from the excellent Fear The Fin, the SBN blog of the San Jose Sharks. He was not only kind enough to answer my dumb questions, he's also provided a wonderful preamble. The following is all his, italicised questions are mine. Enjoy
So you're playing the LA Kings in a playoff series. I'm sorry for you on a multitude of levels. First off, prepare for massive massive frustration. The Kings are a darned good hockey team and you're bound to lose a few games. This time of year, every loss feels like the apocalypse. Second, you'll have to deal with Kings "fans." I put "fans" in quotation marks because being a fan of the LA Kings means something a good deal different than being a fan of other teams. Fans of other teams are passionate about their teams and stick with them through thick and thin. They suffer through thick and thin with their team. If you're a fan of any team in the "Greater" LA Area (and I put Greater in quotations because, believe me, there's nothing Great anywhere in LA), your team's success is like the latest fashion. You wear it while it's hot, and then toss it aside when it no longer serves your purpose of looking cooler than anyone else in your own head. That makes them completely unlike Bay Area sports fans. Trust us. It's totally true because we say it all the time, so it must be true. Third, you'll have to endure aerial shots of LA. And LA is a dump. It's a city of 9 million people in the middle of a desert basin with no water and it was where all the outlaws went during the Gold Rush. And it doesn't look like anything's gotten better since then. But LA's, like, a major media market or something. It's such an important media market that America's largest and most profitable league has no team in the market and still does just fine.
But enough about the City of Angels. Not just the crappy movie, but the crappy town too. Let's talk about their hockey team, the reigning Stanley Cup Champions. You have questions. And, unlike Sharks' fans, when posed with the question "So when's your team going to win something?", we have answers:
I got handed this wrap fairly late in the day, due to Nakis scoring tickets for the game. I was happy to get it, as I was pretty sure I could write a heartfelt send-off to the Hawks' season if needed.
Luckily, it wasn't required.
I'm not going to get into a detailed recap of the game because I'm assuming you were watching it. It was probably the most evenly-matched game of this epic series, both sides throwing the kitchen sink at each other. However, with a minute and a half to go in the 3rd, with the game tied at 1-1, Niklas Hjalmarsson scored on an amazing solo effort to advance the Hawks to the WCF and.. wait, what? Waved off? WHAT THE FUCK?
I'm, fairly sure we all felt the same thing: a terrible, terrible call by Stephen Walkom got the (likely) winning goal consigned to the bin and we all automatically assumed that the Hockey Gods were going to let the Wings win this and leave us in the circle of Hell that Leafs fans occupy when they complain about Kerry Fraser in 1993.
However, Brent Seabrook popped up in OT to deflect one in off a sliding Kronwall, to win the series and speed the Hawks to a WCF against the Kings.
Kronwall was devastated after the horn and Jimmy Howard was the first to comfort him. Classy move. I, however, am going to show zero-class by laughing my ass off at Kronwall's cries for the rest of time. Couldn't have happened to a bigger douchecopter. Some quick bullets, then..
Guess the PP working was too good to be true. The only time it wasn't terrible was when the Hawks managed to win the draw and keep it in the zone.
The UC was pretty rocking all night. Loudest anthem I've heard (and Jim C seemed to be giving it some extra welly, too) Guess that's what happens when you get Holiday Road in the pre-game mix.
Johnny O didn't have the greatest of nights. Q needs to have a think about his D pairings with the prospect of the Kings' forecheck looming.
Patrick Sharp is a handsome, handsome man.
Justin Abdelkader is a turd. He dialled the stoopid up to 11 in this, a must-win situation. On the other hand, penisloaf that he is, Nik Kronwall was playing out of his skin. Wings fans will probably scream about Shaw slew-footing Filpulla (I haven't seen the replay, but I'm assured that he did) for a few years but Filps has been nigh-on invisible all series anyway. Dats was Dats. I'm actually looking forward to watching him do those things that he does so well next year, when he's in the East and it doesn't matter.
OK, that call.. I was so furious over the goal getting scrubbed that I didn't have any rage left for Saad getting a penalty for being mugged. I'm the last person in the world to whine about refs; but that call was so egregious that it warrants some sort of formal review. When even Detroit fans are calling bullshit on a call that gave them a lifeline, you know something stinks. I got way too close a look at the anger that Leafs fans feel about Fraser. The main issue, though, is that the war room in Toronto either couldn't or wouldn't countermand the on-ice call when it so blatantly should've. If it's a "Couldn't", then maybe that needs to be looked at by the League. Will never happen, though.
Thanks, Seabs. Way to come good at the death. I'm starting to think that his issues may be to do with either his health or conditioning. The man was literally pouring sweat while being asked stupid questions by Pierre, well after the horn.  I was worried that he was going to die. Also, nice bone-cruncher from Bolland to start the rush. Moar, plz, Dave.
Corey Crawford is having himself one hell of a post-season. His numbers compare favourably to Tim Thomas in 2011 and Jon Quick from last year.  No more calls for DAT EMORY GUY, please, meatballs.
Finally, some team is going to pay a ton of money to Bryan Bickell and Nick Leddy this summer. That team should be the Chicago Blackhawks. Ditto for Marcus Kruger. He and Frolik were absolute studs, yet again.
So, we're all delirious with joy, the WCF series against the Kings doesn't start till Saturday and Hossa is in his Heaven.
Get back to celebrating the Hawks finally knocking the Wings off their perch in our final meeting as rivals.
We'll get to the Californians soon. The war of words between blogs should make for a fun time.
Oh, and just in case you needed yet another reason to smile:
peace
mmD