mightymikeD
The Irish contingent, live from Cork. 90% of what I write will be done through a haze of sleep deprivation & alcohol. @brightblack76 on the Twitaarghs
Posts by mightymikeD
Here come the Ducks..
The only team that the 2013 Blackhawks couldn't solve roll up to the UC tonight in a similar position to last year, with the Hawks at the top of the League and Anaheim being among the leaders of the pursuing pack.
Sharp-Toews-Hossa
Saad-Versteeg-Kane
Morin-Nordstrom-Brookbank
Bollig-Kruger-Smith
Crawford
It is what it is. I'm not going to second-guess this overmuch. These lines probably make the most sense based on the pieces available in St Paul. The fact that there is an NHL-ready (if not 100% yet then learning) Center getting ready for a game in Charlotte with the Icehogs tonight while a winger is the 2nd Line pivot and two players with 8 & 9 NHL games between them are on the 3rd line with a Defenseman is just one of those things that we're going to have to try to ignore and have faith that Q knows what he's doing.
Otherwise we might think he's out of his mind.
As my esteemed colleague JesusMarianHossa pointed out on Twitter, chances are that the erstwhile 3rd line will be more like the 4th, certainly in terms of TOI. This whole "The 4th Line is ROCKIN'" narrative should get put to a stern test because it's been a possession black-hole and is likely to see some hefty opposition tonight.
Mike Yeo does love his match-ups and obviously has last change. so look for him to get his big guns out aginst them. The Minnesota lines have a slightly makeshift look about them, with Mikael Granlund now out indefinitely with a concussion.  They are expected to roll Parise-Koivu-Pominville ahead of Heatley-Coyle-Niederreiter. This could get hairy quite quickly.  Apparently Saad could also see some time at Center, too. What is guaranteed is a lot of double-shifting, so it's a good thing this isn't the first of a back-to-back with the Ducks coming to Chicago tomorrow, hey?
Anyway, I would expect the line blender in overdrive if things don't start well tonight.
The Wild are no slouches, as we discovered already this year, outside of the top-tier Parise & Suter, they have Jason Pominville, Coyle & Niederreiter all contributing well. Jared Spurgeon is having an excellent year thus far and of course there's that goalie. The Wild allow the 2nd fewest Shots Against in the League and Josh Harding has a SV% of .939.
This could be a long night against a genuine Conference III contender.
Of course, it might all click brilliantly, the Hawks annihilate the Wild and Q looks like a genius.
Guess there's only one way to find out.
Puck drops at 7
The day after an annoying defeat to Dallas was not spent in idle reflection.
We saw two players recalled from Rockford, one player demoted there, a player on IR also headed for the Icehogs and two more players not making the trip to Minnesota.
Busy day at the office. So, what does it all mean?
So, back to the UC and the blessed relief of Pat & Edzo who have, in between whining about luxury travel, also been a-hankering for that soft-serve ice cream in Chicago.
It's back to business as usual, and I do mean usual, as the Stars provide the opposition yet again (part of Realignment means that we're going to get very used to certain teams)
Spoiler Alert: Yes, yes he is.
One of the subplots to last night's victory over the Coyotes was Brandon Pirri's TOI (or the distinct lack of same)
That was fun, wasn't it?
I don't know about you, but I had a certain sense of resignation coming in to tonight's game. Having seen the weary, lacklustre performance against the Stars, knowing it was the last game of a long road trip and just how hard a place to win Glendale is, I was expecting the worst.
Instead we got two periods of scintillating Hawks hockey sandwiching one where they lost their focus. The bombardment started as the Hawks pinned the Yotes in their zone for most of the early running, before ending up with a minute and a half of 5 on 3 time. Duncan Keith made the pass, Marian Hossa took the shot and Patrick Kane turned it past Mike Smith. Smith's evening took a turn for the worse a few minutes later when a shot from his Bestest Friend In The Whole Wide World, Andrew Shaw, somehow dribbled in between his stick & the post. Almost immediately it became 3-0 when Offensive Juggernaut Nicklas Hjalmarsson placed a peach of a shot beyond Smith's glove hand. We held our breath, anticipating a stick-smashing or the hook for Smith, who was clearly struggling. No such luck, however, and that did it for the 1st.
The 2nd period was a whole new kettle of fish: the Yotes came out reinvigorated and quickly got a goal back from Rob Klinkhammer. Then the Hawks started taking penalties: first Oduya went off for a cross-check. Almost immediately after the Hawks killed that one, Hjalmarsson took a slashing penalty and turned it into a double-minor for opening his mouth to the ref. Mike Riberio, who the cretins calling the game for Phoenix apparently compared to Patrick Kane, set up Radim Vrbata to bring it to 3-2. With Hjammer still in the box, Oduya hooked Vermette and joined him. The Hawks killed off the 5-3 and then Martin Hanzal demonstrated exactly what sort of Dumb Fuck he is by pointlessly slashing Seabrook.  That, mercifully, was it for the 2nd.
The 3rd period was a return to relentless Hawks dominance and Brandon Bollig, of all people, scored with a nice wrister to restore the two goal advantage. If you ever want to see sheer nonchalant genius, watch the way Marian Hossa tucks away his ENG. I swear he's not even watching when it hits the back of the net.
Job done. 6-1 on the Circus Trip and a potential hurdle negotiated.
Talking points:
Antti Raanta did very well tonight. He has some issues with his game that need sorting: lateral movement and any time he skates out of his crease being the main ones. However, his shot-stopping is exemplary and he had to stop 32 of them, some of which were point blank redirects. This kid is going to be just fine.
Duncan Keith grabbed two assists tonight, which, I believe, puts him in the Top 3 League-wide. Pat Kane has started a new points-streak and Sharp, Toews & Saad were relentless. Even Brent Seabrook had a good night.
Shane Doan is apparently Captain of the Coyotes. Swear I didn't see his elbowy self all night.
Mike Smith managed a couple of half-hearted flops and was bitching to the refs about Andrew Shaw being in the same timezone as him, but no stick-smashing theatrics, sadly. He was not good tonight, but was spared the hook because who knows what a Thomas Greiss is?
Brandon Pirri appears to be the newest resident of Q's doghouse. 7.07 TOI. More on this another day, I think.
There was a true battle of the Dumbass Callers going on tonight: FOX had the Yotes callers comparing Mike "Varly-Lite" Ribeiro to Patrick Kane and CSN had Pat Foley, his voice cracking with emotion/scotch, lamenting Eddie Olcyzk's heavy 1st Class travel schedule between his two high-paying jobs over the holiday weekend. I'm sure all the MinimumWage-earning retail staff who had to skip Thanksgiving and then face floods of assholes on Black Friday are clubbing together to buy him a big bunch of roses.
Sellout for the Yotes for the first time ever. And it looked like 75% Chicago in there. The "Let's Go Hawks" chants were as loud as any at the UC. The Hawks should have done their fan salute at the end.
OK, that's that. First home game is our old pals Dallas at the UC on Tuesday. The guys can catch some rest and be proud of this road trip: the real hard labours lie directly ahead as December is shaping up to be a very tough month. Still, the Hawks are the team to beat in the league. I like the view from up here.
So, tonight is going to be the record-breaking single-game atttendance revenue for the Phoenix Coyotes in Glendale. As the previous record was $825.41 (Marci and Wade splashed out and bought the jumbo fries instead of regular: it was their anniversary, after all) this wasn't so hard to do. Obviously the conveniently-located Jobing.com Arena is going to be full of brand new Hockey fans from the excellent work that new owners IceArizona are doing in growing the game in the desert, further showing their long-term commitment, right?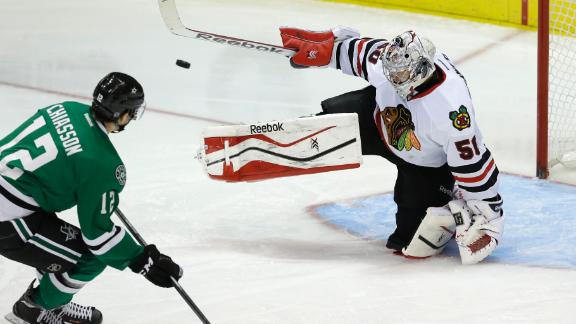 It's probably as good a summary of this game as any to point out that, at its conclusion, 22 Professional Hockey players skated in unopposed to take shots on goal and 19 of them failed to score. It was that sort of a night.
It's often said that the marl of a true Champion is the ability to eke out a win when not playing well and the Blackhawks certainly seemed to be testing that theory.  They were outshot 29-26, and seemed to have difficulty passing to a teammate. Shots were deflecting off shinpads, pucks were bobbling and it just seemed like one of those nights. Corey Crawford caught the mood, going walkabout behind the goalline which allowed Horcoff to get the puck back in front for Rich Peverley to shoot it home.
The second period was a low-shot trudge, the only incident of note being the horrible injury sustained by Stephane Robidas, whose ankle seemed to give way as he competed for the puck, exarcebated by him sliding into the boards. He was stretchered off in agony and taken to the hospital, where the word is that he has, indeed, broken his ankle. Nasty.
Third period saw the Hawks upping the tempo a little and when they did the Stars becan to chase shadows. The game was tied when Patrick Sharp glanced in yet another Duncan Keith long-ranger, giving Duncs 21 assists for the year, good for 4th in the league, just behind some guy called Crosby. No winner was to be found in the rest of the period or OT, although Patrick Kane tried hard to keep his point streak alive, and we proceeded to the shootout. Regulation scoreres Sharp and Peverley converted on their attempts and then 16 shots were saved, missed or otherwise biffed until Ben Smith stepped up and rifled one past Lehtonen.
Ugly two points, but two points nonetheless and on a night where St Louis lost, allowing a tiny bit of daylight to open at the top of Conference III. A better efort is going to be needed against the Yotes in Phoenix tonight as the Hawks finish off this road trip. talking points:
Expensive screw-up aside, Crawford had a pretty good night, turning away 28 shots at 0.966%. He also remains perfect in his career vs Penalty Shots, although he didn't have too much to do with this one: Alex Chiasson hit the post with his attempt after Brent Seabrook hooked him. He was looking thoroughly bored by the time the SO finished
The Stars did their best impersonation of the Blues last night: there were many cross-checks, cheap shots and general asshattery. Roussel, Garbutt and Dillon were the main culprits, Roussel getting away with butt-smashing Patrick Kane to the ground which sparked a confrontation between Sharp and Daley. Brent Seabrook looked like he was going to remove the head of the next person to get in Crawfords face. Aded to the generally scappy ugliness last night.
Marian Hossa and Brandon Saad both did their level best to get something going but the final pass or shot just semed to be missing all night.
Hopefully Robidas heals quickly: horrible to see a player suffering like that.
Pat Foley, Cold Warrior, referred to Valeri Nichushkin as a "Skilled Soviet". Clearly Pat hasn't been sober since the Wall came down or he might have noticed that Nichuskin wasn't even born when the Soviet Union stopped existing.
One to forget, two more points in the bag, the Circus Trip now 5-1-0 with one to play.
Preview up later. Have a good day!
Having seen off all four of the Western Conference Canadians, the Blackhawks are back on Conference III duty tonight against that Conference's surprising basement-dwellers.
Of course, the Stars are not as bad as their position suggests: they're 7-3-0 on their last 10 and have games in hand on Nashville & Winnipeg. They've just come off a high-speed mugging of Anaheim, scoring a very-Blackhawks-like three goals in under a minute of the Third period.The last meting between these two was closer than the eventual scoreline suggested (Offensive Juggernaut Niklas Hjalmarsson's 200 foot empty-netter, remember?)
In Jamie Benn-Tyler Seguin-Valeri Nichushkin the Stars have a top-line that can skate with anyone. It falls off fairly rapidly after that, though. It'll be interesting to see where Lindy Ruff deploys them tonight; as usual the Blackhawks are rolling deep and with Marian Hossa restored to the lineup there is truly phenomenal power on the Blackhawks Top 6. Michal Handzus is there, too.
Last time in Dallas the Hawks managed to take 6 penalties: they got away with it because the Stars PP is ranked 29th in the league and, frankly, sucks. However, staying out of the box is always a smart move, yes? On the subject of smart moves, it would be a decent idea to give Antti Raanta another look against the average Sh% Stars, but it looks likely that it'll be Corey Crawford back in net. Kari Lehtonen will start for Dallas.
The Stars are the definition of "Middle-of-the-pack by pretty much every metric that counts. This is not to say they're not dangerous: they can hurt you and quickly, as the Ducks found out. As journey's end for the Circus Trip draws ever closer, a better than .500 record guaranteed, the Hawks will need to watch out for any complacency or thinking ahead to Phoenix. If they can avoid that, then they should be far too strong for the Stars.
Puck drops at 7.30 Central.
Hope you all had a wonderful Thanksgiving and are taking the opportunity to relax with friends, family and a beverage rather than fighting over cut-price TVs in Best Buy.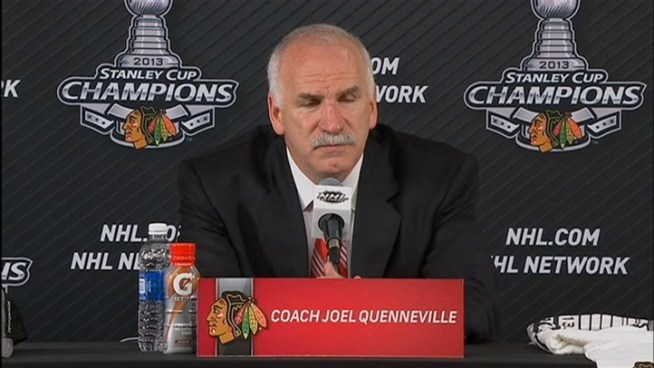 We're at the half-way point of the Circus Trip and the Blackhawks seem to have put a couple of chastening losses (in Nashville & Denver) behind them to see off the Jets, Canucks and Edmonton. A win tonight in Calgary will guarantee a better-than 0.500 result from the trip to the West. Injured players like Michal Handzus and and Michael Kostka are returning to the fold, Marian Hossa is available again. Duncan Keith is in imperious form and Patrick Kane is on a record-equalling points streak. Tonight we will see backup goalie Antti Raanta make his first NHL start.
Yet for the last couple of days  Hawks fans on the internet, the blogs in particular, have been angry, confused and argumentative. The reason? Head Coach Joel Quenneville and his perplexing personnel decisions (and yes, I know that the decision to send Jeremy Morin to Rockford rests ultimately with Stan Bowman: we'll get to that)