mightymikeD
The Irish contingent, live from Co. Cork. 90% of what I write will be done through a haze of sleep deprivation & alcohol. @brightblack76 on the Twitaarghs
Posts by mightymikeD
Having seen off all four of the Western Conference Canadians, the Blackhawks are back on Conference III duty tonight against that Conference's surprising basement-dwellers.
Of course, the Stars are not as bad as their position suggests: they're 7-3-0 on their last 10 and have games in hand on Nashville & Winnipeg. They've just come off a high-speed mugging of Anaheim, scoring a very-Blackhawks-like three goals in under a minute of the Third period.The last meting between these two was closer than the eventual scoreline suggested (Offensive Juggernaut Niklas Hjalmarsson's 200 foot empty-netter, remember?)
In Jamie Benn-Tyler Seguin-Valeri Nichushkin the Stars have a top-line that can skate with anyone. It falls off fairly rapidly after that, though. It'll be interesting to see where Lindy Ruff deploys them tonight; as usual the Blackhawks are rolling deep and with Marian Hossa restored to the lineup there is truly phenomenal power on the Blackhawks Top 6. Michal Handzus is there, too.
Last time in Dallas the Hawks managed to take 6 penalties: they got away with it because the Stars PP is ranked 29th in the league and, frankly, sucks. However, staying out of the box is always a smart move, yes? On the subject of smart moves, it would be a decent idea to give Antti Raanta another look against the average Sh% Stars, but it looks likely that it'll be Corey Crawford back in net. Kari Lehtonen will start for Dallas.
The Stars are the definition of "Middle-of-the-pack by pretty much every metric that counts. This is not to say they're not dangerous: they can hurt you and quickly, as the Ducks found out. As journey's end for the Circus Trip draws ever closer, a better than .500 record guaranteed, the Hawks will need to watch out for any complacency or thinking ahead to Phoenix. If they can avoid that, then they should be far too strong for the Stars.
Puck drops at 7.30 Central.
Hope you all had a wonderful Thanksgiving and are taking the opportunity to relax with friends, family and a beverage rather than fighting over cut-price TVs in Best Buy.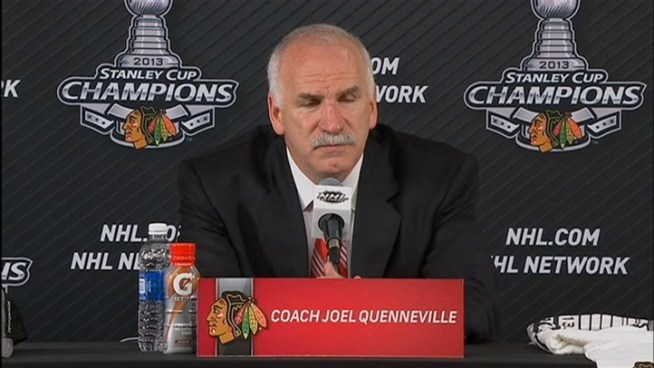 We're at the half-way point of the Circus Trip and the Blackhawks seem to have put a couple of chastening losses (in Nashville & Denver) behind them to see off the Jets, Canucks and Edmonton. A win tonight in Calgary will guarantee a better-than 0.500 result from the trip to the West. Injured players like Michal Handzus and and Michael Kostka are returning to the fold, Marian Hossa is available again. Duncan Keith is in imperious form and Patrick Kane is on a record-equalling points streak. Tonight we will see backup goalie Antti Raanta make his first NHL start.
Yet for the last couple of days  Hawks fans on the internet, the blogs in particular, have been angry, confused and argumentative. The reason? Head Coach Joel Quenneville and his perplexing personnel decisions (and yes, I know that the decision to send Jeremy Morin to Rockford rests ultimately with Stan Bowman: we'll get to that)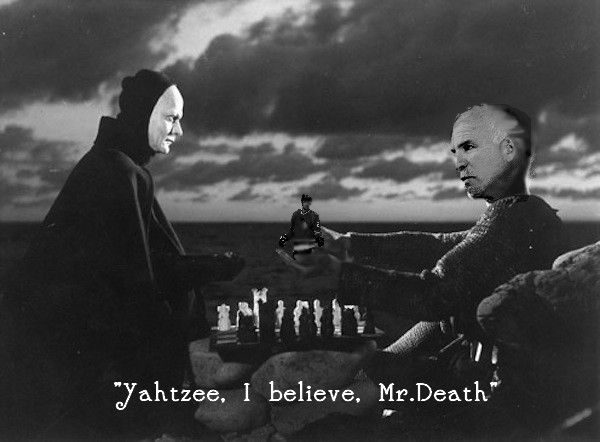 From the Genius that brought us "John Scott as Power Play Forward" and "Daniel Carcillo On The 2nd Line", Joel "Stache" Quenneville is proud to present "Michal Handzus: Winger". I think he's doing it on purpose at this stage, just to annoy.
DAT CRAWSTINK CANT STEAL NO GAMES MY FRENT!
Chances are, if you spend any time hanging out where the Meatballs be at, you've heard this or something similar. This was a common theme even before Crawford's new contract further fanned the flames of ill-informed fautuousness (Alliteration is fun!)
Remember these guys? You could be forgiven if they'd slipped your mind of late. Despite fighting out some of the bitterest Playoff Series of the last five years and usually managing to pack plenty of incident into their Regular Season games, the Hawks and Canucks only played three times last year. They split a pair of SO victories and a Hawks team sleepwalking to the Presidents Trophy had one of their rare off-nights, dropping a 3-1 decision in British Columbia. The Nucks were then swept out of the first round while the Hawks.. well, we know what they got up to in the Post-Season.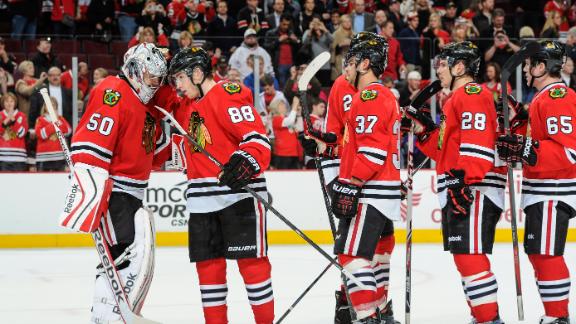 There's an English soccer chant that goes something along the lines of "CAN WE PLAY YOU EVERY WEEK?". That's how I feel about the Winnipeg Jets. They're bad. Bad with a capital "Beej". Four more games as hopelessly mismatched as this would be just dandy, thanks (he said, dooming the Hawks to lose the rest of the series)  I've got some grousing to do, so I'll get through what was a fun, if forgettable, game as quickly as I can.
Brookbank at forward. It's dumb. Q has his reasons (Brookbank deserves to stay in the side but Roszie needs the rotation) but they make sense only to Q.. if you're playing a guy for 8.14 minutes (and more than half of that in the 3rd when the game was safe) and in an unfamilar position, it's really doing nobody any good (for the record, Brookbank played 0.47 in the 1st and 2.45 in the 2nd). This may be a one-off, if so fine. If not…
Patrick Sharp looked to be having "One of those evenings", drawing iron twice, before another handsome goal from close range. His linemates, Toews & Hossa, were operating at a level so far above Winnipeg that they were on the other side of the Pole.
Patrick Kane is very, very good at stickhandling. you heard it here 1,254,821st
"Big Buff" as Foley dribblingly called him all night, did a very good impression of an extremely large headless chicken.
Seriously, can we play the Jets every week? Please?
OK, to the angry bit. Yes, it's the Pardy-Through-the Looking-Glass incident. You've all seen it and read about it, I won't dwell overmuch on the utterly disgraceful lack of respect shown by the couple who grabbed the helmet and dumped the beer. What appalled me was the blatant disregard for Pardy's safety: here we have a player who has just gone head-first into and through the glass at high speed, so clearly the thing to do is to yank his helmet off his head as hard as you can, because there's no way that he might have already suffered a serious neck or head injury. For that alone I hope that the guy gets a lifetime ban from the UC. In the UK or Australia he would have been arrested for such conduct.
The other angry bit, from the same incident, also touches on Player Safety: even while Pardy was draped over the boards with fans and players trying to hold the giant sheet of glass away from his head, his teammates, particularly Anthony Peluso, decided that now was the time to jump Brandon Bollig.  Aside from being yet another example of the asinine trend of players trying to fight after hard but legal hits, this was ridiculous. I hope Claude Noel or someone else in the Jets org has taken the time to sit him down and talk to him about 'Timing'.
OK, so much for that. It's off to Dallas on Saturday. Peace.
I think we all saw this coming. There were gleeful prognostications on Twitter all day about what sort of firestorm was going to come down on Reto Berra in his very first NHL start.
Making his debut against the Hawks? Wow, that poor kid was going to get shelled, broken and possibly sent scurrying back to the AHL.
Well, he got shelled all right: 44 shots, the Hawks highest total this year. However, he stopped 42 of them, was the 1st Star of the game and is doubtless feeling very good about himself this morning.  So it goes.
This was a tedious and ultimately forgettable game and not something to get worked up about: dropping a point to Calgary in November is unlikely to come back to haunt us in the Spring (right?). After a 18 shot but no result 1st for the Hawks, Patrick Kane got it started in the 2nd with a nice wrister and we anticipated the floodgates opening. However, Mike Calamari tied it up; tipping in a shot from Wideman then, in the 3rd, Calgary took the lead via Curtis Glencross. Marian Hossa continued his nice recent run of form; finally scoring in the dying seconds of a PP after the Hawks had squanderd a minute and a half of 5 on 3 time.
To OT and a Kris Russell slapshot ended things.
It pinches to lose to dumpster fires like the Flames, but these things happen. What else we got?
Oh yes, TOI.  Jeremy Morin got 7.21. Smith, Pirri and Bollig between 10-11 minutes. Meanwhile Toews, Kane, Sharp and Hossa were all over 20 minutes. I wish I knew what Q is thinking. Three of those four are Olympic locks and, well, you know the rest. I guess its "First World Problems" if that's the biggest issue; but the sudden sidelining, due to bits falling off them, of one or more of those guys for any long period of time could have serious consequences.
In Q's favour, the D was more balanced with only Leddy (19.51) and Brookbank (16.54) not breaking the 20 minute mark.
It's the Jets up next on Wednesday. As good an opportunity as any to wipe last night from the memory.
I was supposed to recap the Hawks/Sens game but real life got in the way. However, the main talking point has been the performance (or lack of same) of a certain bibulous backup. Such ineptitude can really only be expressed through the medium of verse and, considering its Halloween and all… I give you
Those of you who play Fantasy Hockey may be familiar with this feeling: when a player that you have high, high hopes of, a player that's slipped under other's radar, falls to you in the Draft and you rub your hands with glee; thinking about how smart you are, about how your secret weapon is going to propel you to glory and then… pfffft… not a disaster but nothing special either.  Know that feeling? Do I?
After a harrowing 5-3 loss to Minnesota at the UC on Saturday, the Hawks headed for the Twin Cities for a second go-round with one of the hottest teams in the league. The first game was one where it felt that every single rub of the green went against Chicago, coupled with a goalie standing on his head. Tonight it was very much the reverse.