mightymikeD
The Irish contingent, live from Cork. 90% of what I write will be done through a haze of sleep deprivation & alcohol. @brightblack76 on the Twitaarghs
Posts by mightymikeD
Ah, the Blackhawks Convention! That wonderful time of the year when Rocky Wirtz notices that he hasn't received a dumptruck full of money from Hawks fans in, like, months and yells at McDonough to do something about it.
Love it, Loathe it or just find it mildly amusing to watch Q&As degenerate into bickering, rude questions and autograph requests, it remains a firm part of the Blackhawks calendar. What you may not have realised is that our neighbours in Missouri have their own equivalent.
It's on a much smaller scale, more poorly attended, a lot more pointless and plainly saddled with a crippling inferiority complex, so is therefore completely bound up in St Louis' very identity.
This year has seen a change of venue, from a vacant lot behind a cheque-cashing store, to a luxury hotel. This has clearly been done in a bid to attract the attention of the Hockey World to this celebration of everything Blues Hockey. They even sent out invites to the Media, one of which made its way to us here at Cheer The Anthem
Well, it's been a few weeks since we've posted anything here, hasn't it? Now, you may be thinking that that's because we're a bunch of lazy gits who can't be arsed writing about the very tiny amount that is happening in the Hockey World right now.
You couldn't be more wrong.
In fact, we have been slaving away on all the cool new features that we are going to implement on Cheer The Anthem next year. After the Jump there's a sneak preview of what you can look forward to on your favourite they're ok i guess I don't completely hate everything they do Blackhawks site in the coming Season.
Enjoy! More >
"Free Agency Frenzy" is officially upon us and this year has seen some truly surprising, astounding and bloody stupid signings. I'll address some of those in another post, once I'm through alternately "Laughing my ass off /Weeping about why, exactly, we had to lose half a Season?"
For now, I'll confine myself to the moves made by the Hawks once Free Agency started and "What It All Means"
We knew it was coming. We knew it made sense. Hell, at some point this year we'd probably loudly demanded it. But when it happened it still felt like a well-aimed stick handle in the ribs.
Dave Bolland was traded to the Leafs on Draft day and our lives are a little duller because of it.
Michael Frolik was traded too, and I think that, in a pure Hockey sense,  the loss of him will hurt the Hawks more than losing Bolland. But this is all about Dave, because, whatever else he was or wasn't while wearing a Hawks jersey, he was nothing short of an inspiration when it came to making up jokes.
My first real attempt at writing a humourous Hockey piece was a FanPost on the old SCH about goal celebrations.. and Bolland was both the inspiration and the cornerstone of the entire bit.  It was just after a game against the Ducks, where having already had a goal waved off, Bolland scored on an absolute laserbeam and celebrated in true Dave Bolland-Style: a quick flip of his arms and then an angry death-stare. I pretty much constructed the rest of the piece around that.
It was well received, hell, even made its way into the Committed Indian. Which gave me the confidence to keep going (for good or ill).  I quickly discovered that including a "David Bolland Is A Psycho" joke was a sure-fire winner, as that meme had been running for quite a while and never got old.  I have an entire folder, in the deep recesses of the Amstrad CPC where I do my photoshops, that's just called "Bolland".
When the Trade happened I realised that I'd not done anything on Dave this year, which made me sad. His recent decline and near-invisibility contributed to that, I guess. Because he's been exactly the same strange, wild-eyed, pale, sweating, monotone-voiced weirdo that he's always been in interviews. That shaved-head look was horrible (and therefore fitting). The F-Bomb dropped on CBC. And last, but by no means least, the celebration after scoring the Cup-Winning Goal: a classic "Shake off your gloves and look very angry".
Good luck, Dave. I hope you have fun in Toronto. With you gone and Kaner behaving himself, looks like I'm going to have to find another source of cheap laughs.
And, to end on a Hockey note, this is one of my favourite Blackhawks memories, as Bolland returned from injury with the Hawks staring down the barrel against Vancouver.
So long, David Bolland. We'll not see your like again unless we work on Psych Profiling for the FBI.
Here we are then.
This crazed head-rush of a season has finally brought us to the very threshold of the Promised Land. The Chicago Blackhawks are 60 minutes away from fulfilling all the promise and wiping away the pains of the last three years.
My Dear Friends, we are about to enter the part of the Season known as "Nut-Cutting-Time". I hope you're ready.
Tonight the Hawks host the Bruins at the UC, Home Ice advantage restored for a best-of-three. But tonight is also the last night where there is any "We'll get 'em next time, gang"  for the team that loses. It's going to be Elimination/Total Victory game(s) after this. There will be a Game 6, for sure, and I stick by my original prediction that this series goes the distance. But we'll cross that Bridge of Pain as and when we come to it.
It's trite to say a non-elimination game is a "Must-Win" in the Playoffs, because every game is a "Must-Win". The Hawks have stared down three straight against the Wings already this post-season. But I'm going to call this one of those games. I'm an eternal optimist and believe that this Hawks team can beat anyone, anywhere, anytime. However, if we head back to Boston on the wrong end of a 3-2 series.. well, I fear the worst.  I want Boston desperate, afraid and knowing that their season hangs in the balance at TD Gardens. This series has been so ridiculously tight, with such tiny margins between victory and defeat, that every odd bounce of the puck or speculative shot from a 4th Liner assumes massive importance. And I would much rather have the Bruins worrying about that in Game 6, knowing that the very best they can hope for is having to win in an insanely pumped up UC in Game 7.. against a Hawks team that has the chance to be the first to win a Cup on Chicago ice since 1938.
Rather them than me.
Tonight, the Hawks need to remember that Speed Kills, that Chara has a turning circle similar to the USS Eisenhower and that depth scoring is going to make the difference. Crow must blank all the Narrative BS (and he will). Q needs to roll those lines that devastated an entire league this year.
If that happens, then it'll be the Bruins fans nervously stocking up on Depends, Monday Night.
So, all of this is a rather roundabout way of saying "Let's Go, Hawks"
Get it done, gentlemen.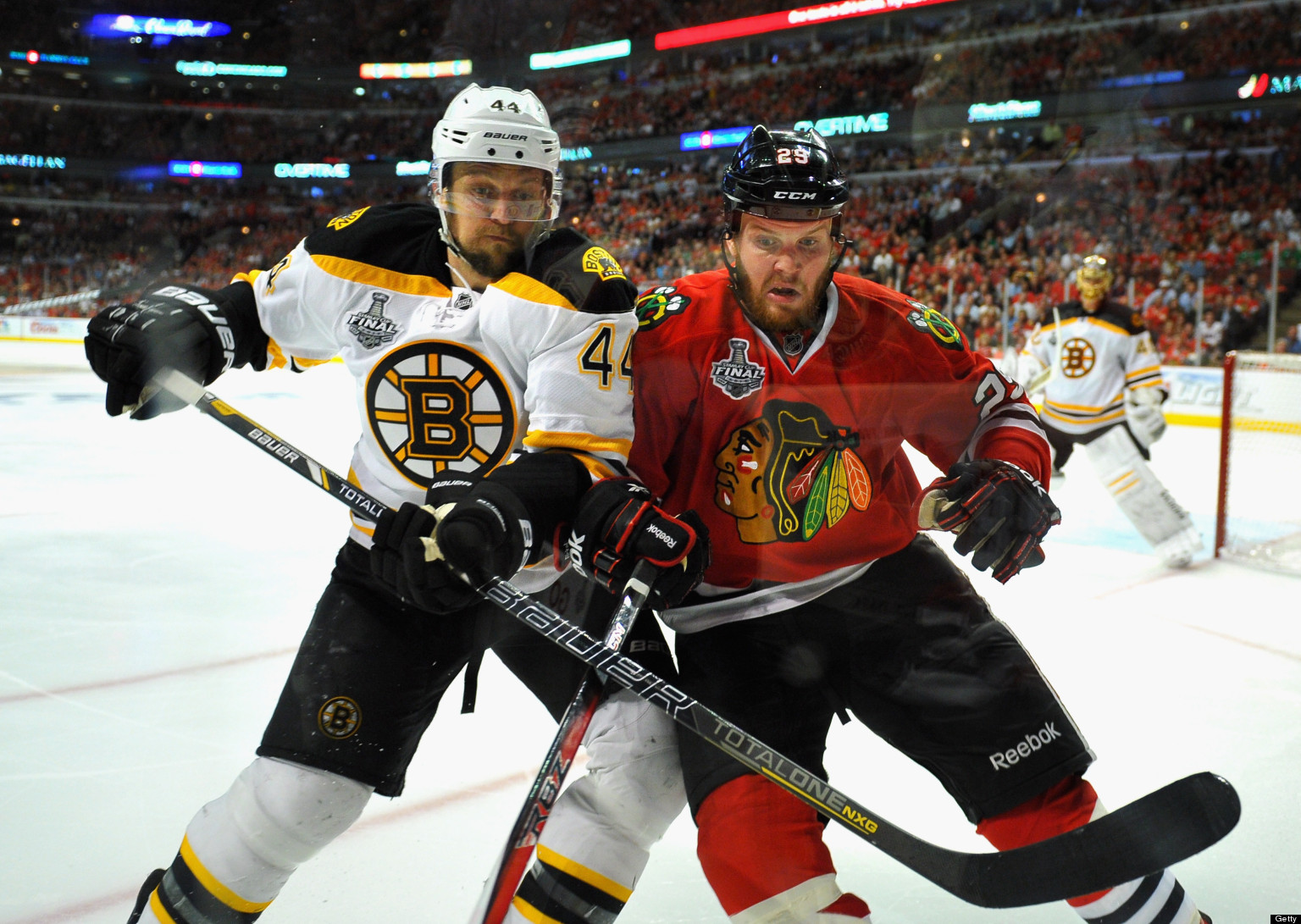 This is going to be short and less-than-sweet. Because it's Father's Day or something.
Exhilarating Hockey, played at a breakneck pace and showing total domination from a fearless Hawks team. Possibly the best they've played this year. True Championship-Quality, right there. Then the 2nd Period started.
Yesterday I posted a vitriolic (and damn funny) roast on the Hawks and the WC from Days of Y'Orr. Today, we'll balance that with a contribution from one of our friends, Emilie, who is the Managing Editor at Hockey Wilderness; the SBN blog for future Conference III rivals the Minnesota Wild.  She makes some pretty persuasive arguments for why opposition fans should be backing the Hawks.  Take it away, Em
It's been a funny old season, not least because the Eastern and Western Conferences have (until now) been kept apart, in much the same way that a St Louis Marriage Counselor (Police Officer to you & I) steps in between Durleen and Wayde when they get to tussling over the last of the meth.
We know all about the West, of course, having spent the year kicking them all in (often repeatedly). However, in a spirit of enquiry, I reached out to excellent Bruins blog Days of Y'Orr to see what, exactly, they think of the Western Conference over there in the East and how they think this series will shake out.
What follows is all theirs..  be warned.
This one nearly killed me.
As this game progressed, and the elation of the early lead was slowly replaced with gnawing tension, I got drunker and drunker and shut down all distractions like Twitter. Focus. Concentrate. Will it there.
Then joy as Kane potted what surely must be the winner.. turning to despair when Bickell iced it, Toews lost the draw and the puck clipped off Mike Richards in a crowded crease to tie it up.  1OT passed in a blur of terror, a state that was repeated until.. well, you all saw it.
Patrick Kane, folks. Patrick "Fuck This Sound, I'ma win this mofo" Kane. Nice.