mightymikeD
The Irish contingent, live from Cork. 90% of what I write will be done through a haze of sleep deprivation & alcohol. @brightblack76 on the Twitaarghs
Posts by mightymikeD
At the moment no one in St Louis gives a shit about the Blues. Now they know how the rest of the NHL feels, all the time. The Best Fans In Baseball are too busy laying in the meth and practicing pushing wheelchair-bound ushers down stairs ahead of  Saturday's playoff game to expand their precious bender-scratch on Hockey. (It's a meaningful Playoff game, too, with the StL side not being the ones facing elimination, a situation entirely alien to Blues fans.) Luckily this game is in Chicago so  Hawks fans are supposed to outnumber Blues supporters.
Time for more fun with numbers and your views on proceedings in sunny Carolina the other night. Well, that was harder than it should have been. Two points secured, a lot of dominance from the Hawks (the Stats make hilarious reading), some good things, some bad things., some things to learn. My brother the Stats Guru was assuring me, prior to the game, that this Islanders team is the real deal and are going to tear it up in the Metropolitan Division. Colour me unconvinced, but they do have a very impressive sucker-punch and they got to use that a couple of times tonight. Also, John Tavares is very good at Hockey.  Let's get into it ..
Going from Coast-To-Coast to the most confusing of the new Alignments, the Atlantic. That contains exactly none of the Old Atlantic Division teams (all in the Metropolitan Division). Also, teams from Ontario & Michigan, which  are land-locked (and in Detroit's case over 600 miles from the Ocean). The Atlantic isn't the first body of water you'd associate with Buffalo, either. Anyway, it's a strange mix of old North Eastern teams with a couple of terrible Floridians from the South East and an escapee from Western time-zone tyranny in the Red Wings.
Let's take a quick look at the Realigned Divisions, starting with the Westernmost, the excitingly-named "Pacific" (or "Pacific + Bits of the old NW")
This looks like being a very hard-fought (if not especially exciting) Division: Four of the Seven teams made last year's Post-Season, Anaheim finished Second in the Western Conference for the Regular Season and LA went to the Conference Final. Phoenix were on the Playoff Bubble and hope to be back there again. The less said about the Albertans the better.. and then there's the Curious Case of the Canucks, of which more in a moment.
Battle Of California
The three Californian teams will all be spoken about as contenders this year. Anaheim, whose remarkable run last year was ended by a fairly heavy regression to the mean, traded away the permanently disgruntled Bobby Ryan, picking up a decent return from Ottawa in highly-rated young winger Jacob Silfverberg, 1st round pick Stefan Noesen & a 1st rounder next year. Teemu is, of course,back and Dustin Penner has crawled wheezing from LA to Orange County. Their Blue Line looks like a problem area, with Beauchemin dinged up, Sheldon Souray out for at least a couple of months and after that.. Mark Fistric? Luca Sbisa? Yuck. Luckily their cup runneth over in goal with Hiller in a contract year, Fasth building on his breakout season and that John Gibson hovering in the wings.
San Jose.. It's hard to know what to make of the Sha-Arks, as ever. Thornton & Marleau are in the last years of their deals and not getting any younger. However, if Pavelski & Couture can repeat their form of last season that's still a potent line up. Hell, maybe even Marty Havlat will stay healthy for longer than ten minutes? Sadly, they haven't bothered with any defense again this year which means Antti Niemi will need to be on top form, again.
Meanwhile, in a certain smog-choked hellhole, the Kings are already being picked by many as this year's Champions. They have changed little on their roster, save shipping off Dustin Penner to Anaheim and taking Gorilla Salad off the Hawks' hands in return for some magic beans. There's little doubt that, if they play to their strengths, they are one of the best teams in the League. Their big weakness is their Ent-Like defense with Willie Mitchell & Robin Regehr lumbering around behind Drew Doughty.  They continue to praise Slaya Voynov to the heavens, but from what I've seen the kid still has a great deal to learn about play in his own end. (Hell of a shot, though). And Jon Quick is Jon Quick.
Dead Men Walking
Phoenix finally resolved their ownership issue and future location for once and all five years. They will be hoping for a return to the post season after missing out last year. They can keep on hoping. Their only "major" addition has been Mike Ribeiro, for four years at $22.5 M which, were it not for Toronto & Philly, would likely be the laughing-stock deal of the summer. Ribeiro was at a Point-Per-Game last year, for the first time since 2007-08. He was also on the Caps PP with Ovechkin and Backstrom. Good luck with Radim Vrbata, Mike. Shane Doan is another year older and slower and more elbow-y. The rest of the Yotes are made up of the usual collection of pluggers and plodders. One feels that, unless Mike Smith has one of his "Outlier" years, this will be a tough season for the Desert Dogs.
Edmonton re-upped Jordan Eberle (for way too much money) and RNH (see above, though more justifiable in the Nuge's case). These sort of shenanigans now mean that the Oilers have less Cap Room than the reigning Champions. Sam Gagner's fresh new broken jaw will sideline him indefinitely so they had better be praying that Hall, RNH, Yakupov et al can stay healthier than they have been in recent seasons. Not that it will do Edmonton any good: they have no defense or Goaltending and will be aiming at the Draft Lottery again. As for Calgary… Just close the door and walk away, sadly shaking your head. Full-on Tank Mode for the Flames with Jay Feaster likely to be out of a job by Christmas and Brian Burke embarking on a long-overdue rebuild.
Diving For Dear Life
That leaves us with the ever-beloved Canucks and, for me, the most interesting storyline in this Division: namely, is this the year the Nucks miss the Playoffs? I would hazard a guess that it could be: we all know about the Presidents' Trophies and exaggerated seedings won by beating up on a piss-weak NW Division. Last year we saw the Wild make a much better fight of it and the Nucks swept out of the 1st Round. This year they are going to be fighting hard with the formidable trio of Californians for the three automatic spots and they may well find themselves lacking.
What they've mostly got this summer is older. The Sedins are starting to show their age (although still a force to be reckoned with) Ryan Kesler and David Booth can't stay healthy, they still think Kevin Bieksa is a top-pairing D-man, Luongo's mind may well have been snapped by the goings on and they've got noted Locker-Room-Unifier John Tortorella behind the bench. There's still plenty of threat there if it all comes together. If not, I believe the Canucks may well find themselves on the outside looking in when the Post-season starts, which will cost Mike Gillis his job and instigate a crisis in Vancouver where they have no Cap-Space or Prospects.
While we all stand back and chuckle, of course
Season Previews are like Assholes: Sports Blogs are full of them (you sure about this? .ed).
Nailing your colours to the mast as to how teams and players are likely to perform over the coming year is a risky business and leaves one open to the mockery of your peers when, inevitably, the Hockey Gods make sure that all your confident predictions go horribly wrong.
Therefore, we here at Cheer the Anthem have decided to skip this potential public shaming and would much rather that you do it instead: here is a comprehensive preview of all the other 29 teams in the League. All you have to do is fill in the blanks and you're on the Path to Hockey Guru Status/Hiding Under A Rock .
North American Hockey fans seldom pay much attention to the various European leagues and when they do it's usually as "The place that all those awesome Finnish goalies come from" or "Jesus God, those jerseys are ugly" or "Somewhere that Don Cherry REALLY hates".  The events on the larger ice really don't factor much in the tumult of an NHL season.
This year, however, is slightly different and the eyes of Hawks fans will be turning to Europe more often, for reasons that I'll get to in a moment.
Being of the European Persuasion myself, I'm going to contribute a weekly wrap-up of events from a selected few Teams and Leagues over this side of the pond that may be of interest to Blackhawks fans (and some just for my own entertainment.. humour me)
SM Liiga / Jokerit (Finland)
This one is pretty obvious: there's a certain Hawks prospect playing there who has created the sort of giddy anticipation last seen when Patrick Kane was drafted. We'll be keeping a close eye on how Teuvo Teravanien is developing and hopefully providing more awesome "Highlight Videos With Crazed Finnish Callers" for your titillation. Another subplot is the fact that this is the famous old club's last year in the SM Liiga before they jump ship to the KHL next season.
Slovak Extraliga /HC Dukla Trencin (Slovakia)
This is, of course, an Olympic year and Slovakia are in the USA's group for the First Round. While no-one expects the Slovaks to cause an upset against the US or Russia, they are a potential landmine and should not be taken lightly. Their best players (and Tomas Kopecky) are mostly in North America or playing for Bratislava, who moved to the KHL last year, but we'll keep an eye on any developments coming out of Slovakia. Dukla Trencin is the club that rocked the cradle of the Hossa brothers, the aforementioned Tomokop and the late Pavol Demitra (whom their arena is named for). Trencin is also the hometown of Zdeno Chara and Marian Gaborik.
Elite Ice Hockey League/Belfast Giants (Britain)
Shameless Homerism here: we'll take a look at Ireland's only Pro Hockey team as they compete in the British League. The Giants have had an extremely traumatic time off the ice over the last couple of years (of which more on another day) so we'll follow them and see how the club is picking itself back up off the floor.
 Championnat De France Div 1/ Mulhouse Scorpions (France)
This one is personal: I have a weird affection for this happy-go-lucky bunch of schmucks who won promotion to the French Top Division, La Ligue Magnus last year, only to get kicked in by all comers, finish second-last and get relegated back down (yes, they have Promotion/Relegation in France.. damn Eurotrash!). Last time they were in this Division they won it, so I'll be taking a look at their travails and hopefully give you an idea of Hockey in the real backwaters of Europe.
We'll be kicking this off with some quick profiles of the teams, the leagues and the key players to keep an eye on.  If I can find time in between constructing my shrine to Teuvo, that is.
More soon.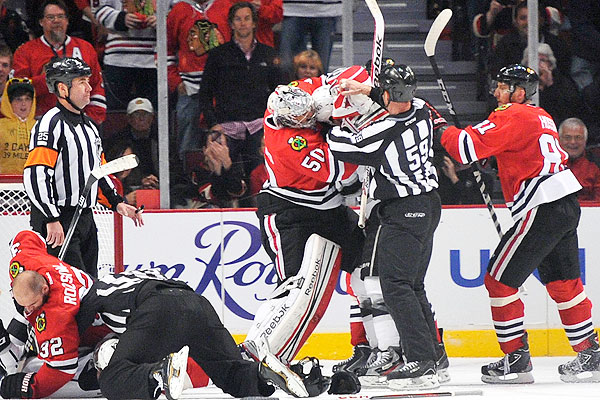 Corey Crawford was expected to be the subject of much speculation during the forthcoming Season: his current contract (Cap Hit of $2.6 Million) was due to expire next summer, leaving him a Unrestricted Free Agent. The Hawks fanbase was wondering if he would be traded now that his value is at its peak, re-upped, and if so, for how long and for how much in light of some of the blockbuster and/or boneheaded deals given to goalies lately.
Instead Stan Bowman gave an added fillip to Crawford's Day withe Cup by re-signing him to a 6-year deal worth $36 Million ($6M per year)
Bowman has thus far shown no willingness to overpay for Goaltending and Crawfords deal is closer to the 6yr/$31.8m extension signed between Jimmy Howard and the Wings or Mike Smith's 6yr/$34.2 than the Tuuka Rask contract (8yr/$56m) .Obviously this is being made with the anticipation of a considerable rise in the Salary Cap in 2014/15. Crawford is now making some Elite-Money.
I'm sure there are some Crow-Hating Meatballs out there tearing out their hair and howling into their Tapout shirts as their dream of Ryan Miller in the Indianhead fades. Thus far, however, the general mood seems to be one of cautious optimism. There are some concerns over the length of the contract and that Crawford will be 35 at its end however, it would be very un-Bowman-like for the contract to be an untradeable monster and there is always going to be some GM willing to pay whatever it takes to get a Stanley Cup winning Goalie on to their roster.
Personally I like it, yes, it's a lot of money and years but when you look at some of the other contracts that have been handed out in recent years, especially to Goalies, it looks perfectly reasonable. I also have an inclination to trust Stan Bowman's judgement in these things: he's hardly put a foot wrong in his dealings.
This is going to be a high-pressure year for Crawford: he is now the undisputed #1 (which he was last season, too despite the "WE WANT DAT EMORY GUY" crowd), he won't be "Playing for a Deal", instead he will have to justify his considerable price-tag while the well-regarded Antti Raanta hones his game in the AHL.
We all saw plenty of signs of an increasingly confident, aggressive and strong-willed Crawford last season (and not even Pat Kane believes that he didn't deserve the Conn Smythe). With Chicago looking to repeat and with every team in the league gunning for them, he's going to need every bit of that strength.
There are very few writers in the Hockey world that need absolutely no introduction, but Sean McIndoe, better known as Down Goes Brown, is certainly one of them. (And if you don't know who Down Goes Brown is, stop reading this now, go here , start at the start and come back when you're finished)
He's unfailingly perceptive and hilarious and I (and anyone else who attempts to make jokes about Hockey) owe him an enormous debt of gratitude and tremendous respect.
What he is also, though, is one hell of a writer.
Recently, Ryan Lambert of Puck Daddy asked, on Twitter, for advice on websites to read in order to help ease a newbie friend into the game.  Slak, of Hockee Night and Magnificent Beard reknown, suggested Down Goes Brown which, after I thought about it, made perfect sense. Despite all the in-jokes and McIndoe's encylopaedic knowledge of the game, he writes with utter clarity and provides enough context for the more arcane references to reward anyone who follows up the links and does a little research on their own.
I remember, from when I was, myself, wet behind the ears, tracking down old articles and YouTube clips in order to understand jokes about Toronto 4th Liners from the mid-90s.  Which was a good thing, I guess..
This year has seen McIndoe writing for Grantland (while still maintaining the quality at the  Down Goes Brown site) These articles have been less surreal than the DGB material but have managed to be interesting, informative and downright hilarious, written in the same spirit of gentle mockery and sharp observation that have been his trademark.
The weekly NHL Grab Bag series was worth reading for the "Awesome and/or Horrific Old YouTube Clip of the Week" section alone (now there's an education for newcomers!) not to mention the usual head shaking over "What Has Done Cherry Gone And Done Now?" and "The Week's Most Depressing CapGeek Page" (how it wasn't Philly every week I'll never know)
Sean McIndoe manages to be almost universally adored (Chris Pronger was unavailable for comment) right across the notoriously cantankerous and fractious Hockey fanbase, no mean feat. This is, in my opinion, due entirely to the fact that he writes with genuine warmth and affection for this game and those who play it, watch it and even administrate it (just about). His jokes can be cutting, accurate and merciless but they are never nasty or needless and even when he is sticking it to people like Kerry Fraser or Gary Bettman, there is a smile behind the barbs.
Nowhere was this genuine feel for Hockey more apparent than the Grantland article he published on May 30 this year, entitled Absence of Malice. Don't look for any jokes, there are none in this article about serious accidental injuries caused on the rink. It is an extraordinary piece of writing and, to my mind, this year's equivalent of the NY Times series on Derek Boogaard in late 2011 in its unflinching yet empathetic look at the very human frailty and vulnerability behind this most physical and dangerous of sports.
It's a profoundly affecting and thought-provoking piece and a clear demonstration that, behind the jokes and the fun, there is a serious and clear-eyed observer of the game. It hardly seems fair that one man can excel at both things, but I'm sure there isn't anyone out there who begrudges him this.  Instead we all look forward to whatever Sean McIndoe , or his crazed alter-ego Down Goes Brown have planned for us next.
You can read Down Goes Brown at www.downgoesbrown.com, Sean McIndoe at www.grantland.com and you should absolutely, positively buy his book, The Best Of Down Goes Brown, details here