Tonight, the Blackhawks continue their winning ways against early season darlings the Montreal Canadiens. The Habs currently sit 3rd place in the Atlantic Division after going 3-7-0 in their last ten games. They score as good as anyone in the league and despite missing Vezina-contending goalie Carey Price, Montreal still owns a +15 goal differential. Tonight's matchup should be entertaining, to say the least. And, in case you've been living under a rock, they also carry one of the most electrifying and fun players to watch in the NHL.
As we've seen recently with outrage over the NHL All-Star selection of John Scott, the NHL and its media occasionally have an aversion to things that are fun. The league wants more scoring because it's fun for fans to watch, but excessive celebrations and exuberant players that make them are often derided for being "too flashy." Big personalities are stifled in this league for the most part because the league and teams favor risk aversion. The less personality, the less chance for controversy. The less controversy, the easier it is to sell the game. From a certain viewpoint that makes sense.
Though, it seems strange that each week on NBCSN Rivalry Night we're treated to interviews with past players who participated in wild brawls and crazy shenanigans. The casual fan might come to expect those kinds of fireworks when watching these rivalry matchups (if you even want to call them rivalries). Strange might not even be the right word. It's hypocritical.
With that said, a player like the Montreal Canadiens' P.K. Subban often becomes a point of contention amongst various hockey pundits and even more so on Twitter. It seems like a yearly thing in which a columnist lists Subban as a hateable hockey player with anecdotes about how he's flashy and celebrates too much and hasn't really won anything and about a dozen other old, tired criticisms. And like clockwork, people jump to defend Subban's honor asking the question of why he doesn't get the respect that many feel he deserves. Some charge racism, and that very well might be why he's treated the way he's treated by some.
Subban is an exuberant and flashy hockey player. He's an outstanding talent that plays hockey with the same joy that squirts and pee wees play the game with. He's awesome. What could possibly be the reason that anyone would dislike this hockey player?
One plausible reason is that Pernell Karl Subban is the Eastern Conference version of Corey Perry. He's a superstar that also happens to play like a complete dick. Along with his incredible gifts as a hockey player, Subban also shares plenty in common with such lovable ice hockey players as Steve Ott, Max Lapierre, James Neal, and Alex Burrows.
I think the most notable controversial play that people will remember featuring Subban occurred last year during the playoffs when he two-handed the Ottawa Senators' Mark Stone and broke his hand. Watch as the fan favorite indignantly waves his arms at the referee when he's called for a major penalty:
Keep your "remember whens" in your pockets, folks. Yes, I remember when Chelios and Suter and friends used to abuse people in front of the net as bad or worse than this. I don't long for that kind of hockey. Plays like this are not hockey plays. Of course, just one incident isn't enough to label a player as a dirty trashball that deserves hot takes like these:
@RegressedPDO COREY PERRY IS A SEPTIC TANK FILLED WITH TOXIC SLUDGE Oh yeah, clap clap, clap clap clap

— hannanuary 4 chicago (@stace_ofbase) May 30, 2015
Corey Perry has accomplished a lot for a human with rabies. — Andrew Berkshire (@AndrewBerkshire) April 17, 2015
@wyshynski I'm a huge fan of yours… but if I'm bidding 2 million it better be for the chance to punch Corey Perry in the crotch.

— The Royal Half (@theroyalhalf) May 6, 2014
Corey Perry is the Joffrey Baratheon of hockey. — Jen LC (@RegressedPDO) May 11, 2015
Corey Perry gets the guacamole at Subway #ChadDingleberry

— ForKahuna (@hockeenight) May 20, 2015
Corey Perry gets extra guacamole at Subway. — ForKahuna (@hockeenight) May 24, 2015
Duncan Keith smashed Jeff Carter's teeth out and almost decapitated one of the Sedins, but he's not usually associated with dirty play. Evidence to make that charge is lacking. Subban, though, has an arsenal of plays that fans of ice hockey, young and old, shouldn't be fans of. The sucker punch is one of Subban's go-to moves: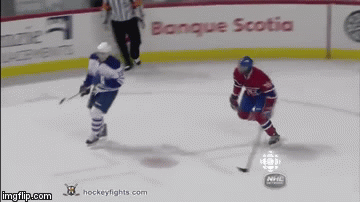 The slew foot is also a big part of the Norris Trophy winner's game:
He's also got a number of high hits under his belt, notably this one on David Krecji:
Not to mention that he's been fined for diving a handful of times. Look, everyone in the league embellishes and dives, but if you get busted and fined a few times you're either not very good at it, or you do it often enough to warrant league action. Here's one that shows off Subban's exuberance and style on the ice: 
P.K. Subban is a remarkable talent. He's one of the best defensemen and most exciting players in the NHL. He's an entertaining and seemingly wonderful person off of the ice. But, he also happens to be someone that deserves disdain for on-ice antics just the same as your ol' pal Corey Perry.
Nobody is saying that you must HATE P.K. Subban. I don't. But, I find him to be a loathsome hockey player more often than I wish I did.