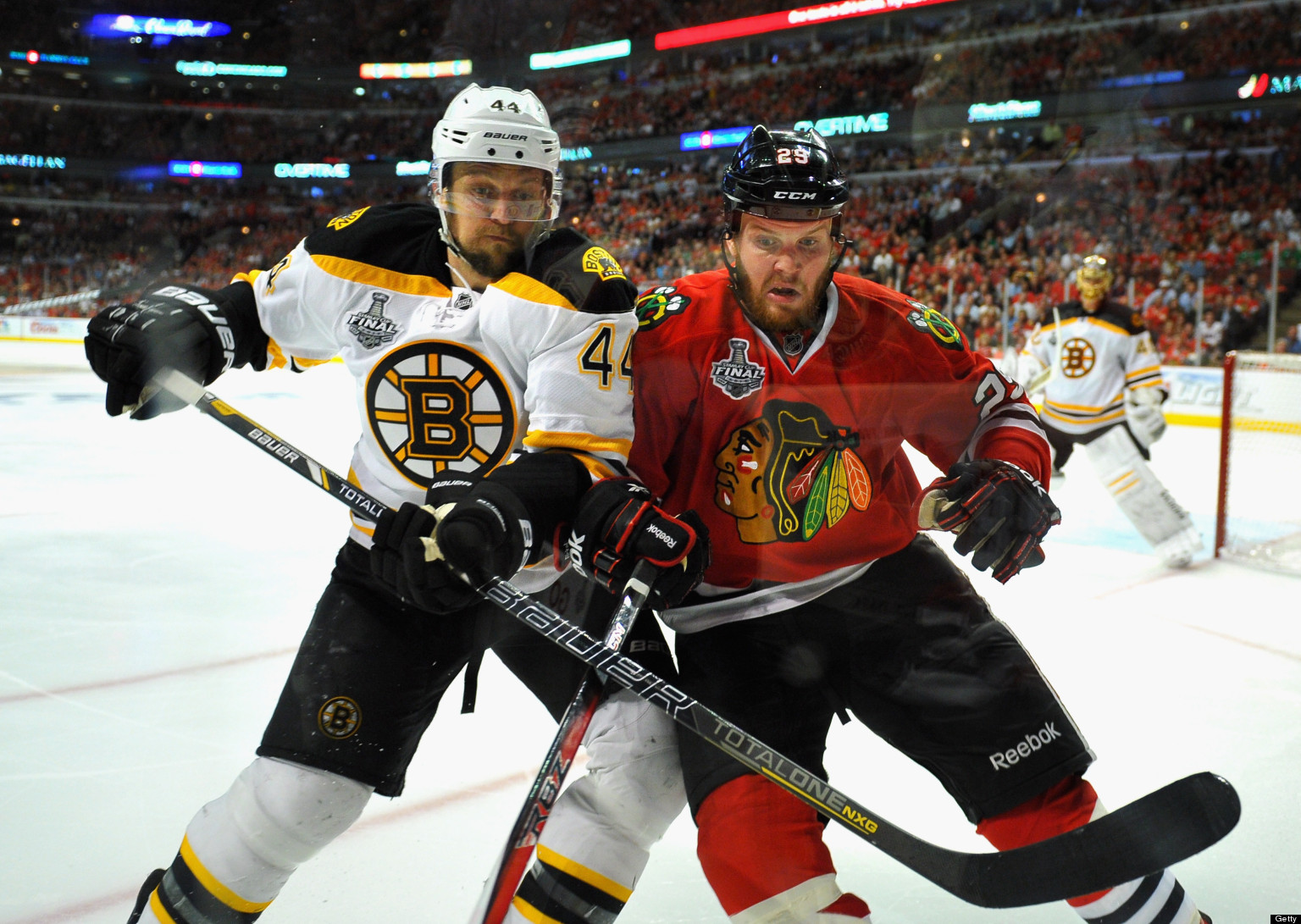 This is going to be short and less-than-sweet. Because it's Father's Day or something.
Exhilarating Hockey, played at a breakneck pace and showing total domination from a fearless Hawks team. Possibly the best they've played this year. True Championship-Quality, right there. Then the 2nd Period started.
Ha. I'm hilarious. But seriously, that was as dominant a period as I've  seen from the 2013 Hawks, outside of, maybe, a couple against Detroit. Chicago outshot Boston 19-4 and took a lead thanks to a goal as rugged as the good looks of Patrick Sharp.  People were getting excited on Twitter. Hubris was in the air. The more realistic knew that there was a Boston push-back coming.. and it sort of did.
While the Bruins did a much better job of neutralising the Hawks offence in the next two periods, they didn't generate a whole heck of a lot themselves. David Paille put a nice move on Nick Leddy coming around the net to set up Chris Kelly for the tying goal, but while Boston led in shots 8-4 and 8-5 respectively, they never felt really dominant.
And so to OT, yet again.. Jagr drew iron, Boston pretty much ran things (although the Hawks had some looks too) and then, just as the Hawks looked to be getting their legs under them, Brandon Bollig lost the puck and David Paille (him again) rifled one high glove on Crawford.. and that was that.
A few points..
I give zero shits about the "Waved Off" goal. The Intent to Blow rule is what it is, it was applied correctly. The Hawks have been beneficiaries of these be times. Moving on.
The Crow-Bashers squirmed out of the woodwork approximately 0.00365 of a second (that's Metric: I think the Imperial equivalent is Half-A-Gooseberry) after Paille hit the twine. "HIGH GLOVE SIDE!" they shrieked. "So weak HIGH GLOVE SIDE!" .."Boston have figured out that HIGH GLOVE SIDE".  Bollocks. Maybe Crow has given up some high glove goals. Maybe Boston are targeting it.  However, if you think "Crawford HAS to have that save" on an absolute scorcher from Paille, then your standards for Goaltending start at Superhuman and work up.  Neither goal was on Crow, who also had some mighty fine saves tonight.. and by that token..
.. I'm not putting this loss on Brandon Bollig, either. Sure, he turned over the puck that led to the winner, but, you know, that happens to everyone. He's not done much wrong, this series. However he's also just not done much, period. Viktor Stalberg, Ben Smith, Jeremy Morin all bring a lot more to the table. Some idiots have been saying "If you're whining about a 4th Liner, then you're ignoring Toews and Kane and blah blah blaaaah" These teams are so tightly matched, a spider couldn't get a leg into the seam. Every advantage has to be taken. The Hawks' offensive depth is an an advantage. Every spot on that team counts. One is being wasted on Bollig.
The Power Play. It's actually getting worse. I think it's become self perpetuating, possibly self-aware. It'll have a Creation Myth soon.  Boston were the most threatening team on the Chicago Man-Advantage.
Welcome back, Dave Bolland. He made himself thoroughly unpleasant to be around tonight. This is a Good Thing.  I like this "Two For Flinching" thing he's got going.
Michael Frolik should be in the Conn Smythe conversation.  Simple as that.  He was everywhere, tonight.
So, as a certain shitty Plastic Paddy band would say, we're "Shipping Up To Boston"
So be it. There's nothing spectacularly wrong with the Hawks (aside from the PP, obviously) so we'll see if Q want to get his oar in early for next year's Jack Adams or if he's content to ride the hot (ish) hand.
We'll see you there.